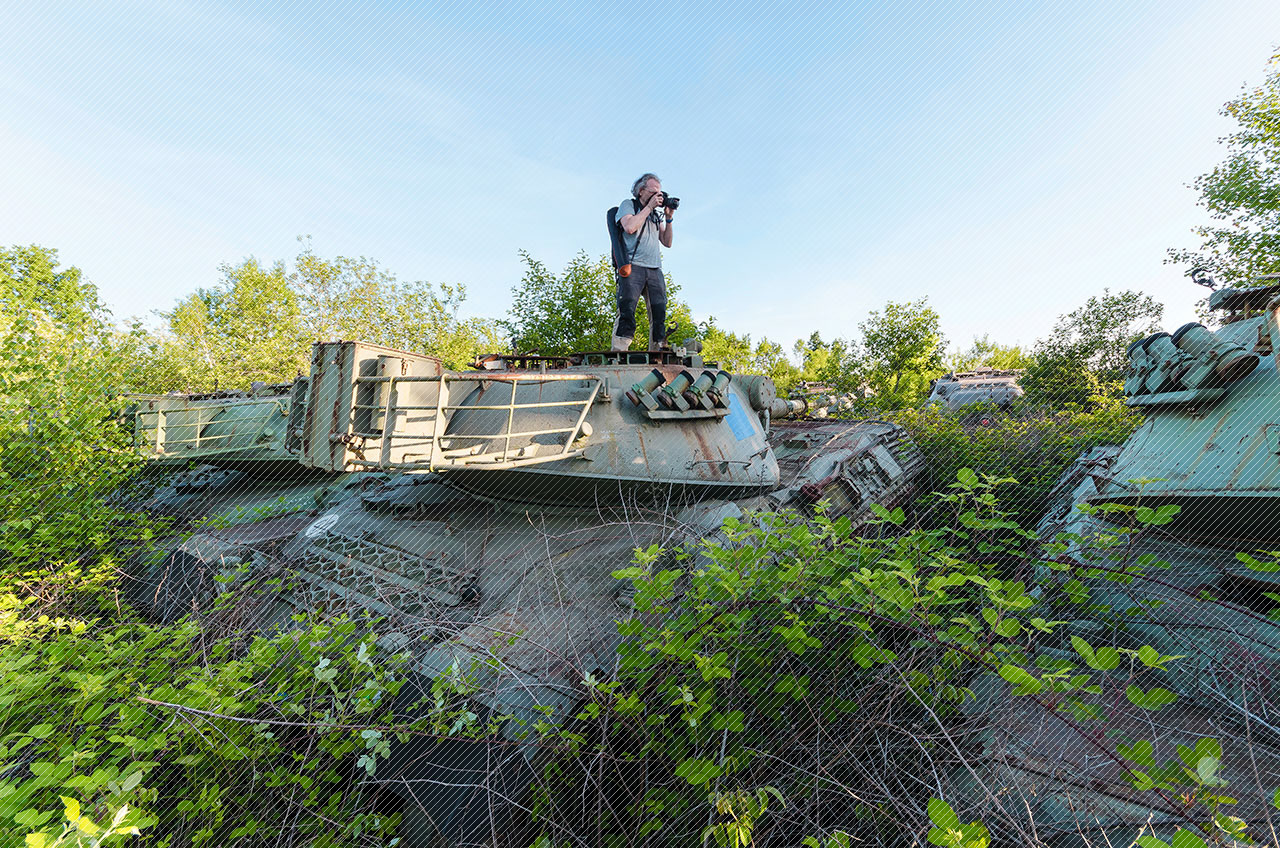 A graduate in Design from the Fine Art School of Nancy in 1986,
early in his career Francis Meslet was a designer, but soon turned to advertising when he joined several agencies as an artistic director. After 30 years spent questioning the creative concept and studying images in all his compositions, he is now a creative director. Francis does not hesitate to roam the world in his spare time, searching for abandoned sites, sanctuaries where time seems to have stopped after humans have evacuated them. He thus brings back captivating and melancholic images of his travels to the other side of the world...
Like time capsules, testifying to a parallel world and perfect for enabling the mind to wander and ponder, Francis Meslet's melancholic images brave the passage of time, making way for silence after the memories left behind by human inhabitation. 
In these deserted places, no more than the rustling of the wind can be heard through a broken window or the sound of water dripping from a dilapidated ceiling. These silences nonetheless invite the spectator to slip into these well-guarded and mysterious places captured by the photographer and attempt to bring to life that which has been forgotten. In this power station orders were shouted in German, in this French Catholic school the cries of children resounded to the sound of the bell but who can imagine the sounds hidden behind the walls of this old psychiatric asylum in Italy or
on the docks of this abandoned island off Japan? From these silences, everyone can imagine their own interpretations, ...reinterpretations.
Diplômé major en Design de l'École des Beaux-Arts de Nancy en 1986

, Francis Meslet exerce le métier de designer durant une courte période puis se tourne rapidement vers la communication en intégrant le circuit des agences de publicité comme Directeur Artistique. Après 30 années passées à triturer le concept créatif et autopsier l'image sous toutes ses compositions, il est aujourd'hui Directeur de Création. Francis parcourt le monde à ses heures perdues, à la recherche de lieux abandonnés par l'homme, sanctuaires sur lesquels le temps s'est arrêté. Il en ramène des images saisissantes, capsules temporelles témoignant d'un univers parallèle propice à l'évasion de l'esprit et à l'interrogation….
Ces endroits abandonnés ont fait place au silence au fil du temps. On n'y entend plus guère ici que le bruissement du vent par une vitre cassée ou là le rythme syncopé d'une goutte d'eau qui perle d'un plafond ravagé. Ces silences appellent pourtant le visiteur exceptionnel de tels lieux. Dans cette centrale électrique, des ordres étaient criés en allemand, dans ce collège catholique français, les cris d'enfants résonnaient au son de la cloche, mais qui peut imaginer les sons cachés derrière les murs de cet ancien asile psychiatrique en Italie ou sur les quais de cette île abandonnée au large du Japon ? De ces silences, chacun tire sa propre interprétation, … réinterprétation. 
​​​​​​​
EXHIBITIONS

/ EXPOSITIONS
2019



>

FESTIVAL PHOTO DE DAX

 / 01.06 au 31.07.2019 / MindTravels Series
2018



>

FRANCE, RUGNEY

 / 15 & 16 09.2018 / Journées Européennes du Patrimoine / Il était une FOI
> THE doART URBAN PHOTOAWARDS & EXHIBITION 2018
>

ITALY, TRIESTE

  / 23.07.2018 / Trieste Airport
>

AUTRICHE, KALGENFURT

/ 27.07.2018 / Walraum Galerie
>

POLOGNE, LODZ

/ 30.07.2018 / Dom Literatury
> 

POLOGNE CRACOVIE / 

01.08.2018 / Alchemia
> 

POLOGNE CRACOVIE /

 

02.08.2018 / Pierwszy Lokal
> 

CROATIE, POREC /

 

07.08.2018 » Porec Museum
> 

HONGRIE, BUDAPEST / 

10.08.2018 / 400 Bar
> 

HONGRIE, BUDAPEST / 

11.08.2018 / Castro Bisztro
>

 ITALIE, TRIESTE / 

24.09-15.11.2018 / Trieste Photo Fringe
>  

INDE / MUMBAÏ 

/ 

INDIA ARCH DIALOGUE 2018 /

Du 13 juillet au 13 août 2018 /

Moments in Architecture


>  

AUSTRALIE / ADELAÏDE

/ 

TPS AWARDS 2018 / 1er Prix catégorie Architecture 

/ 16 sept. au 15 oct. 2018
>  

MALAISIE / KUALA LUMPUR

/ 

TPS AWARDS 2018 / 1er Prix catégorie Architecture 

/ 26 au 29 Avril 2018 /

White Box Gallery
>  

FRANCE / NANCY

/ 

XXe BIENNALE INTERNATIONALE DE L'IMAGE

/ 27 Avril au 13 Mai 2018 / Site ALSTHOM
Il était une Foi : Regards sur la Foi en Europe et la déshérence des lieux de cultes.


>

USA / MINEAPOLIS

/ Du 23 Février au 17 Mars 2018 /

Empty Places : Abandoned Spaces


PRAXIS GALLERY & Photographic Arts Center

/ Exhibition. International Jury awards




>

INDIA / NEW DEHLI  / INDIA ARCH DIALOGUE 2018 /

Du 9 au 25 Février 2018 /

Moments in Architecture


Ojas Art Gallery, 1AQ, Qutub Complex, Mehrauli

/  Exhibition, Talks, Workshop. 




>

SWISS / LAUSANNE / MIND TRAVELS

/ Du 23 Février au 23 Mars 2018 /

 DropinShop
2017
>

APARTE MUNDI

/ Collective / Oct. 2016 /

Paris




>

REQUIEM POUR UN CENTENAIRE / APARTE MUNDI

/ Collective / 12 Sept. / 08 Oct. 2016 /

Bordeaux - Cadillac




>

SILENT SCREAMS OF OBLIVION

/ Mars / Avril 2016

/ La Douera - Nancy - Malzéville




>

JOURNEES DE LA PHOTO D'EXPLORATION URBAINE

/ Fév. 2016

/ Maison de la Bresse - La Bresse